On August 22, 2007, Isis (Ilsalee) Gray-Hound became the only greyhound in the country to earn 500 therapy dog service hours and one of only a handful of therapy dogs nationwide- of any breed-to accomplish this honor. Isis is a certified Therapy-Assistance Dog with Helping P.A.W.S. International and a member of the Triangle Greyhound Society.
Titan, Isis' brother, has crossed the 500 hour yardstick. He has 508 hours as of December 31, 2008.


Update!!! Isis has passed 640.50 hours as of December 31, 2008

Isis along with her handlers have earned many awards. Isis serves as the president of the Helping Paws Fur-board assuming that position from her sister, Founding Fur-Therapist Cassie Gray-Hound. Isis lives with fur-siblings Titan and Charlie. Together they currently serve as fur-facility Directors at Dorthea Dix Hospital, Spring Arbor and Heritage in Raleigh, NC.Over the years Isis has served as fur-director at Carver, Abbotswood, Spring Arbor and Durham Learning Services. Isis is also one of Helping Paws' demonstration dogs for Helping Paws Therapy Dog Training classes.


Isis became a certified therapy dog on June 19, 2002. She has been averaging about 100 patient contact hours per year. Isis earned most of her hours working with the patients at Dorothea Dix Hospital in Raleigh, NC. She has also worked at Ronald McDonald Houses and at numerous nursing and retirement homes. Almost 100 of her hours were as a reading assistance dog in Helping Paws B.A.R.K.S program. Isis is a performer! She loves to entertain her patients by doing tricks for them. Her favorite trick is her bow and saying her prayers.

Isis was adopted from Greyhound Friends of North Carolina in February of 2002, when Isis' sister Cassie went to Rainbow Bridge quite suddenly. A grey named Patsy at Durant Road almost became the new fur-kid of her parents, but fate lead them to Isis and she has been a superb therapy dog! Isis will do anything asked of her. She will work 3-4 hours straight in a sweltering hot nursing home while dressed in a very hot costume –like her Santa suit or witch costume --and she will be just as energetic with the patient #245 as she was with patient #1. Isis does her best work when in costume and has even won serveral costumes contests.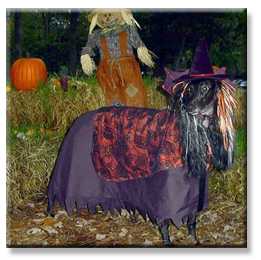 Isis has some unique abilities. While she learns new commands quickly, she learns best by watching another dog perform something; e.g., she learned to shake hands by watching a German Sheppard do it only three times. Isis also excels as a reading assistance dog. Somehow, she instinctively knows when a child has made a mistake. She will look up and whine giving her handler the perfect opportunity to say, "Isis said she needs help with this word. Let's teach her how to say it."

Isis has already started on her next 100 hours. On October 1st, she will resume her duties as a reading assistance dog and on October 3rd she will celebrate her 8th birthday. She has asked for a big birthday bash with all of her doggie friends –if only Mom can find the time to plan it. While she does a little ambassador work with TGS, she hopes to increase that this year. Isis is also thinking about taking up freestyle dancing. Isis absolutely loves to stand on her hind legs, spin 10-15 spins in place; then, break out into some 3-4 ft. wide circles.